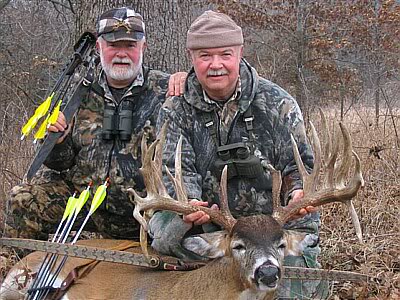 "Brothers of the Bow" Barry and Gene Wensel(pictured above) both use Smokey's Preorbital Gland Lure and after much testing……Barry says "This Stuff Really works!" To read an article and view a slide show on the effectiveness of using "Wicked Wicks", visit the Wensel brothers website at : www.brothersofthebow.com/html/wickedwicks.html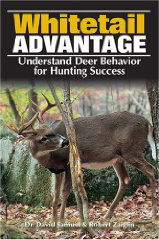 "Two Years ago I learned about Smokey's Preorbital gland lure. The instructions were rather simple. Go to a scrape that is hot every year, in August put a few drops of the lure on the overhanging limb. Every week, doctor that limb again. I was told that I could expect to see more big bucks hitting that scrape than ever before. IT WORKED! We took photos of eight shooter bucks on that scrape I'm not much for gimmicks, but Smokey's Preorbital gland lure works" – Dr. Dave Samuels endorses Smokey's Preorbital Gland Lure and even talks about it in his new book "Whitetail Advantage".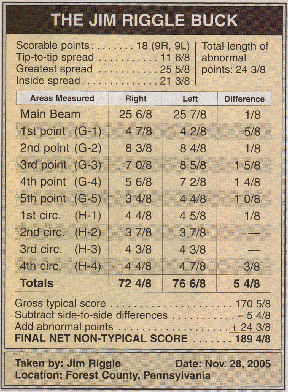 Outdoor Writer – Steve Sorensen recieved the Pennsylvania Outdoor Writers Association Award for Deer Hunting story of the year for "A 12,000-Mile Obsession" in a special addition of North American Whitetail Magazine.
In the December 2007 issue of Awesome Whitetails the story detailed a Deer Hunter named Jim Riggle who actually field tested Smokey's Preorbital Deer Lure to pattern the Tionesta Giant named "Spike" which net scored 189 4/8 B&C.(See B&C chart above) This Buck was 100% nocturnal and Jim lured him to a doctored licking branch with Smokey's Preorbital Gland Lure.
Jim summed things up in his Final Thoughts from the magazine article, "There were several important keys to harvesting this magnificent whitetail. First, doctoring licking branches with preorbital gland scent from Smokey's Deer Lures held the deer for good trail camera photos within a quarter mile of the spot where he was eventually killed. Jim believes that Smokey's preorbital scent is most effective because each bottle contains secretions from a single whitetail buck, letting resident deer believe an intruder is in the area. Also, just before climbing up to his tree stand, Jim used some of Smokey's doe estrous scent, and that may be what held Spike long enough for the shot."(Picture of Jim Riggle & his monster buck below)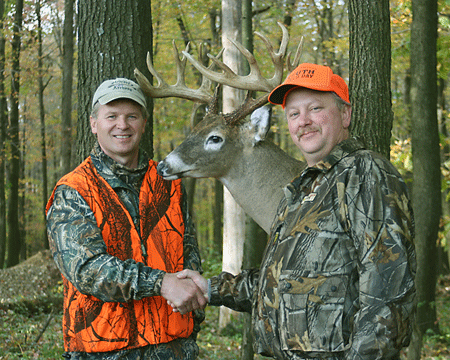 By far the best scent I've ever used in mock scrapes. Put it on the licking branch. Got dozens of bucks in just a couple week period. And a bunch weremature deer. I killed a 135 using a mock scrape I made with this scent last year.- Joshua Bias
Hello
I just wanted to let you know how pleased I am that I found your products. I feel like I am hunting when I check my trail camera. I have been hunting for 30 years and I like to use scents. Of course I always used stuff on shelves from different stores. You have made a customer out of me. I will not purchase any more scents on a shelf ever. The pics I have gotten already from my camera while applying your scents have me so pumped for this coming season. Thanks for what you do. Angel Moreno .
Smokey's Pre- Orbital gland is the real deal! I can't believe the trail camera pictures I am getting, I also have been using the wicked wicks with great success. Very excited for this upcoming bow season, hopefully to see some action in the field.- Joshua Hitz
Dear Smokey,
Your pre orbital scent is unreal! It's truly amazing. I run 15 trail cameras and I'm blown away by the results of your product. I own a deer camp where many locals come together to hang out, enjoy each other and talk deer. I'm a big supporter of your product and several of my friends have purchased it after seeing firsthand the results. What I would like to ask for is an autographed photo or something relating to your pre orbital or deer scents that I could frame and put up on the wall in our buck barn to represent your products. It would mean a ton to me and I think it would be really cool and a great conversation starter. If you would please sign something and make it out to Dan and The Owasco Whitetails that would be amazing and greatly appreciated. If you would like to be compensated for the postage please let me know what I can do. Thanks for your time and the great product!!
Dan Murphy
Hi John,

We spoke a few minutes ago, updating you on how well Smokey's Deer Lure has continued to produce for the staff here at American Rack Addicts.  As you know, we developed our own application method for your doe interdigital gland lure and your doe estrous lure.  Our application method and your lures have made a deadly combination.  We are assured when going into the woods here in Georgia that we'll see deer when we have your product on hand.  The buck interdigital gland lure combined with the buck pre-orbital gland lure instantly got hits back in the summer time when we established licking branches and placed our cameras to see what we were working with.  We used your doe interdigital gland lure in conjunction with your doe estrous this past weekend when walking into our planned area of hunting, despite 30-35+mph winds, we still had deer show up and were highly stimulated and responsive to the lures we trailed in with.  My brother, and fellow staffer, Ryan Burgess tracked in the same as we have been doing yesterday morning.  He left the bottle of the ground with the top off and had a buck almost drinking it out of the bottle.  The buck gave him a 20 yard chip shot with his bow. This product has blown our mind as is starting to cause some commotion here in Georgia.  Your product is the real deal and every hunter needs it in their field pack!  We are proud to represent you here in Georgia and are thankful that you have been two years strong as our call/lure sponsor.  We look forward to building a stronger relationship with you and the products you work so hard to produce.  Keep up the great work
John, you have these thicket and swamp bucks here in Georgia dumbfounded!

God Bless,

American Rack Addicts

Staffers: Travis Mulkey
Chad Burgess
Ross Crane
Ryan Burgess
From: George Burns
Date: October 23, 2015 11:22:29 AM EDT
To: smokeysdeerlure1@gmail.com
Placed an order on Monday, Product was delivered Wednesday and there is buck on the ground today (Friday). I have hundreds of pics of this buck throughout the year but none during the day. He came by at 8:15 and buried his head right where i put the preorbital gland scent. Great stuff never would have guessed it worked that quick.
Thanks,
George